Maintaining a clean and healthy environment is crucial for homes and businesses in the busy city of Doha, Qatar. Professional cleaning services in Doha Qatar provide essential housekeeping solutions to address the challenge of keeping spaces spotless and hygienic. This is where Scrubs.qa comes in as a reputable local business dedicated to delivering top-notch residential cleaning and commercial cleaning in Doha Qatar.
The Significance of Expert Cleaning Services in Doha Qatar
With hectic lifestyles and packed schedules, most people struggle to keep their living and working spaces clean regularly. Hiring professional cleaners in Doha Qatar saves you time and effort while ensuring your property is cleaned thoroughly.
Scrubs.qa's specialized cleaning services in Qatar allow you to maintain a healthy and germ-free environment, which has become more important than ever before. Their disinfection solutions and focus on sanitization make them the ideal cleaning company in Doha.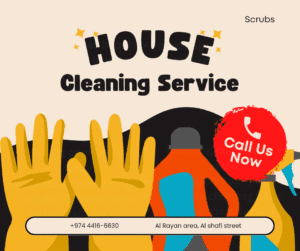 Diverse Range of Cleaning Services
Scrubs.qa offers comprehensive cleaning solutions in Doha Qatar including:
Residential cleaning for apartments, villas, and homes
Office cleaning services for businesses
Commercial cleaning for retail shops, malls, hospitals, etc.
Deep cleaning for a sparkling finish
Carpet cleaning by experts
Window cleaning services
Their tailored services like post-construction cleaning and move-out cleaning in Doha Qatar ensure every project is completed to perfection.
Tailored Solutions for All Needs
Scrubs.qa customizes cleaning plans based on each client's unique requirements using the latest tools and eco-friendly cleaning methods. Their transparent pricing ensures you get competitive rates with no hidden charges.
The convenient online booking system makes it easy to schedule services. Enjoy the difference that top-rated cleaning services in Doha Qatar can make for your home or office.
Expertise and Professionalism
The cleaning professionals at Scrubs.qa are extensively trained to deliver 5-star service and quality cleaning results. They utilize advanced equipment and international best practices for an impeccable finish.
Experience the difference of Scrubs.qa's meticulous cleaning approach designed to surpass expectations. Their positive customer reviews are proof of their commitment to excellence.
Quality and Health-Focused Cleaning
Scrubs.qa prioritizes health and wellness by using non-toxic cleaning agents and ensuring meticulous disinfection post-service. Enjoy complete peace of mind with their vigilant cleaning protocols for a germ-free environment.
As a leader in janitorial services in Doha Qatar, they spearhead the movement towards more hygiene-focused cleaning. Their attention to detail helps provide allergen-free and sterile spaces for better living.
Elevating the Local Cleaning Industry
With a customer-centric approach and consistent 5-star service, Scrubs.qa is elevating the standards of professional cleaning services in Doha Qatar. They utilize the latest tools and advanced cleaning technology to pioneer the cleaning industry.
Experience their difference first-hand. Discover why Scrubs.qa is rated as one of the best cleaning companies in Doha Qatar for both homes and businesses.
Enhance Your Quality of Life with Scrubs.qa
Say goodbye to tiresome cleaning chores and enjoy an impeccable home or workplace with Scrubs.qa world-class services. Get a free quote for affordable cleaning packages designed to suit your budget.
Contact Scrubs.qa today to book tailored cleaning services backed by expertise and a drive for innovation. Explore how their solutions can improve your quality of life through a cleaner, healthier environment.
FAQS Related to (cleaning services)
Q: What cleaning services do you offer?
A: We offer a comprehensive range of residential and commercial cleaning services including regular home/office cleaning, deep cleaning, carpet cleaning, post-construction cleaning, and more. Our trained professionals can clean any space to perfection.
Q: Do you offer office/retail cleaning services?
A: Yes, we are experts in commercial cleaning services for offices, shops, malls, clinics and more. Our tailored solutions and flexible timings make us the ideal cleaning partner for businesses in Doha.
Q: What green cleaning products do you use?
A: We use non-toxic, eco-friendly cleaning solutions certified by global organizations. This ensures effective cleaning without harmful fumes or chemicals.
Q: How can I schedule cleaning services?
A: You can conveniently book appointments and make payments online via our website. Alternatively, call or WhatsApp us at +974 4416-6630 to schedule services.
Q: Do you have a satisfaction guarantee?
A: Absolutely! We offer a 100% satisfaction guarantee. If you are not content with our service, we will re-clean the area free of charge.
Q: Are your cleaners professionally trained?
A: Yes, our cleaners undergo extensive training on latest techniques and industry best practices. We also conduct background checks before hiring staff.
Let me know if you need any other sample questions and answers for your cleaning services business.